Charity spotlight: Grow
Welcome to the first in or Charity Spotlight series. We have been working to forge partnerships with charitable causes that provide financial education to kids and help to promote sustainable ways of living and now we want to share the great work of those charities with the Cardano community.
Who are Grow?
GROW is a charity that provides courses and programmes designed around agroecological farming. They help support sustainable living and a sense of mindfulness about ourselves and how we interact with and impact nature. Grow work predominantly with children and young people in their local area who experience poverty, personal or social barriers to learning, healthy living and employment.
It all happens at the GROW farm. The farm is based right at the start of the Green Belt in Barnet, North London. Everything they grow is either used in the Totteridge Academy canteen next to the Farm site, sold at their weekly community produce stall, or sold to other local schools and businesses such as PAVILION Cafes.
As well as growing fruit, vegetables, herbs and flowers they also keep bees and chickens on the farm and have plans to add sheep and goats for grazing in the future, which will further support the agroecological farming philosophy. Check out the video below to see the farm in action.
Working with schools
The charity works with a lot of schools, but was set up in partnership with The Totteridge Academy which is right next to the farm site. Grow teamed up with The Totteridge Academy to help them transition to launch a new in-house catering system. The system was created with the goal of educating children around healthy eating and the benefits it provides for both physical and mental wellbeing.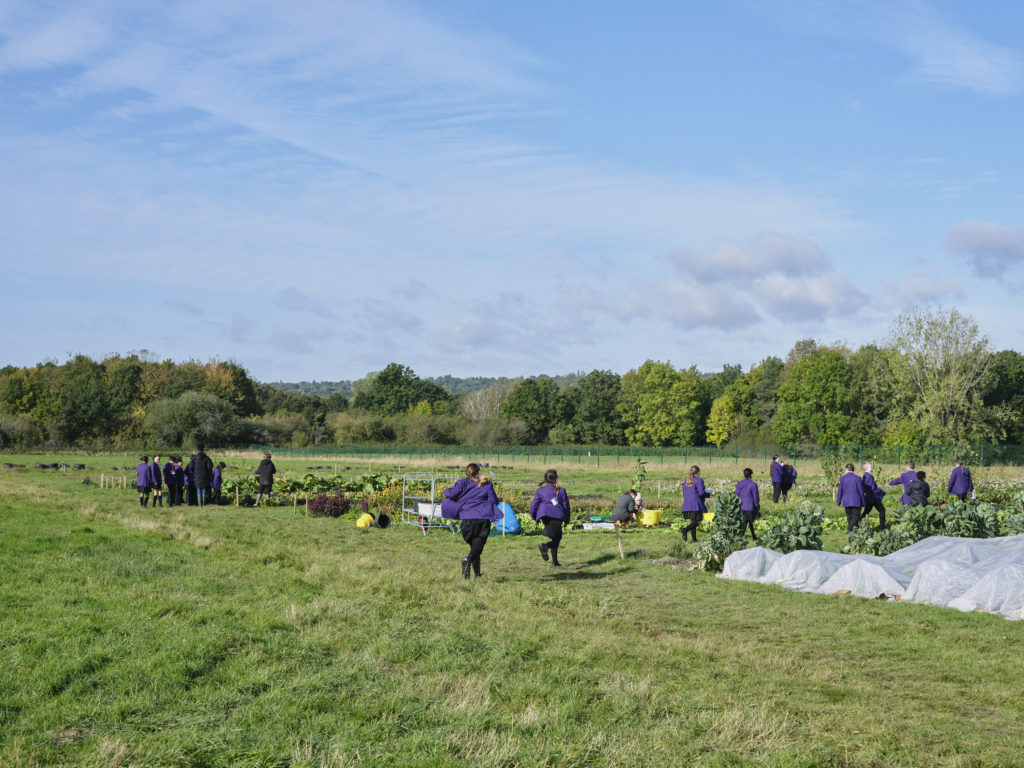 GROW even supported The Totteridge Academy in hiring a new head chef from the Chef for Schools programme. This is an exciting program which helps place and train chefs from top restaurants into schools, to not only provide healthy, nutritious school meals for the children, but also help to teach people about the benefits of eating healthily. The chef at The Totteridge Academy has the additional benefit of sourcing produce fresh from the Farm each week to include in the school meals.
Alongside this, every year Grow offers 2 paid food growing apprenticeships, aimed at 2 young people on Universal Credit to learn new skills in a new industry, with pathways to further their careers within sustainable agriculture. The program helps to provide the children with opportunities and experience that would otherwise be very challenging for them to find.
GROW offer bespoke intervention based programmes, after school clubs and curriculum packages for both primary and secondary school aged children. The packages focus on outdoor learning, sustainable food growing and mindfulness. Each session they deliver will start with a ten minute breathing exercise to help the children relax and get them in the best frame of mind to learn.
Four learning packages
There are four different learning packages listed on the GROW website. The courses are:
Learning from the Land

GROW outdoors

Mushroom Academy

GROW holiday programme
At Upstream we really liked the Learning from the Land programme. It sounds like an amazing way to encourage children to get outside, connect to nature and build a sense of confidence in themselves and the work they produce.
The programme takes 75 children from 5 different schools and provides a 20 hour learning experience centred around outdoor learning and well being. The other idea of this program is to inspire the children and leave a lasting legacy by providing training and mentoring to the schools so they can embed this philosophy of outdoor learning into their curriculum.
The Mushroom academy sounds awesome too! It teaches the kids about the key ecological role mushrooms play in the overall health and nutrient levels of the soil in their environment. You can find out more about the Mushroom Academy and the other learning packages on the GROW website.
Want to know more about grow?
We hope you're feeling inspired after reading about GROW and the innovative way they are reconnecting younger generations with their roots (sorry not sorry ?).
If you want to check out anything else GROW do, follow them on twitter @wearegrow___, instagram @wearegrow___ or check out the website to find out more.
We need support from Cardano holders like you so that we can help the amazing work at GROW by donating a portion of our staking pool's profits. Find out more about staking your ADA with Upstream here.